Everything free can be good!
Are you a social media addict?
Do you serve your time online?
Does your virtual world excite your lifestyle?
Are you getting FOMO attacks thinking that you can't get connected to your virtual world because of unavailability of internet connection?
If you answered in affirmative to all my queries then continue reading as I review the best internet application that I found out lately. Free WiFi Hotspot.
If you have got just one single wired Ethernet connection and a room full of friends connecting their phones and laptops to your internet then you can quickly transform your laptop in a wireless hotspot – that needs no more hardware – with Free WiFi Hotspot.
Features:

It is Windows-based software, which makes your Laptop a wireless router. So what you can do is make a WiFi hotspot that is password enabled and allow your friends to connect to, even if you don't have any extra hardware device router. Free WiFi Hotspot can connect to all your devices that have internet surfing needs. It is a super easy to use, virtual WiFi router. It enables you to share the Internet from your laptop to your:
iPhone
iPod
iPad
Android phone
PSP
Xbox
Kindle
iWatch
Google Glass
E-Readers
External media players
Smart watches
Other game consoles, smart watches, and laptops.
How to Use it?

Following is a 3-step guide that allows you easy instructions to follow and learn on how to use it.
Step#1: Customize Hotspot ID & Password
Launch the Free WiFi Hotspot application and enter a name under "Hotspot Name" and a minimum 8-digit password under "Password" to ensure network security
Step#2:
Select Network Connection
Click "Share from" to choose the network connection from the following internet connections:
DSL
Cable
Bluetooth
Mobile Broadband Card
Dial-Up and much more
Step#3:
Create Hotspot
Click the "Start" button to build the WiFi hotspot. Within a matter of seconds the hotspot you built with the name you have set, can be identified by your device of choice. Now you are capable of sharing your internet connection wirelessly with anyone. However, the condition is that they have the password too.
Now that you know its usage and have set it up, let's take a look at how beneficial this application is.
Pros

Easy setup in just a few seconds.
Doesn't matter which connections you want to share and what devices you want to connect. The application is the fastest and the most reliable way to make things work in your favor. Just launch the app and hit the start button and you have your very own WiFi hotspot.
Easily connect all devices to WiFi.
It can satisfy any devices' internet surfing needs easily and quickly. There is a just a 3-step guide to follow.
Share multiple connections over WiFi:

2G
3G
4G
GPRS
USB Tethering Connection
It combines the amazing mobile data/cellular data coverage options with your WiFi Hotspot. It can also connect through GPRS and via USB tethering connections. As long as your laptop is online, anybody connected would be too, it is that simple.
No more overpaying for expensive connections
Those days are gone when you had to bear bills of all kinds of connections from cellular internet coverage services to home-based WiFi. Now you can have your very own hotspot and that too for free.
There is no need to buy other hardware devices.
It works like a virtual internet router so you don't need to buy any other hardware router to make it work. It is there and it is for free!
It works like a WiFi booster to make your WiFi signal stronger immediately.
It is an instant booster because it uses your existing WiFi connection and extends the range via your laptop making the internet availability strong and connection to more devices.
You can track the usage of your WiFi as it displays the most detailed information.
It displays the vital info of all WiFi usage devices like the IP address, MAC addresses, upload/download speed etc.
Cons

There is just one disadvantage to this ultra modern, free internet package that you might just not feel the need to use it, which is just sad.
Performance

Free WiFi Hotspot has been recognized as No.1 WiFi Hotspot software for now 6 years. It is loved by 3 million users with 100+ Awards from PC Editors. The application team promises Free WiFi Hotspot to be 100% free and 100% clean. You see what you get: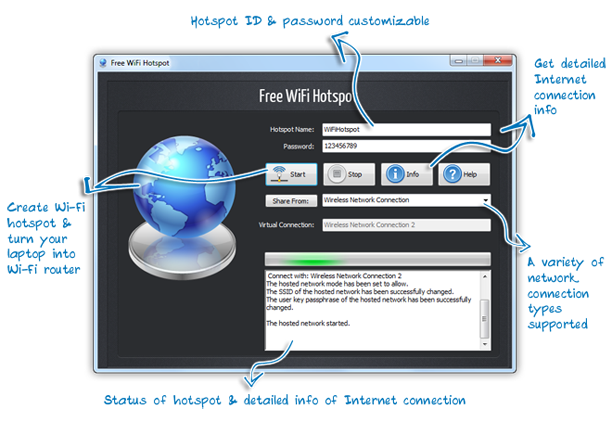 http://www.free-wifi-hotspot.com/file/2016/10/screen_small.png
So the bottom-line is that this software is available for free and has a very easy setup too. Just in case you feel the need to use it then it is just a click away:
GET FREE WIFI HOTSPOT!